25th Anniversary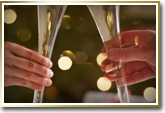 Every great wine has a story, and Ballatore's begins 25 years ago with a man on a mission. In 1983, winemaker Spirito Ballatore set out to produce a sparkling wine that represented the best of Italy, a wine that could be enjoyed both every day and for special occasions. He styled his sparkling wine after Italian Spumantes using a proprietary and complex blend of California grapes.
The result, formally introduced in 1985, was a bouquet of flavors and inviting aromas reminiscent of ripe peaches and apricots. Well-balanced and rich in character, this sparkling wine refreshes the palate with flavors of melon and a crisp, clean finish – one that has earned more than 250 prestigious awards from wine spectators around the country.
So join us as we raise a glass to 25 years of providing Ballatore for your celebrations and cheers to another 25!